Individual training
Eurolangues offers customization. We demonstrate this pre-eminently in the individual language training. With the organisation, size, planning, content and execution we can optimally respond to the wishes and requirements of that one specific student. In addition, we look for a connection with the function, the tasks, the personal learning style and the interest.
Professional approach
We discuss the business preconditions in an exploratory interview. Following that one of our language trainers enters into discussion with the student. Matters that are discussed:
structure and size of the training, evaluation times
choice for an intensive training during a limited period or a staggered training
intake with the student
determine the final level in the desired language
determine the skills: reading, listening, writing and/or speaking Also read quality assurance
European Reference Framework (ERK)
In order to determine the correct level we make use of the specifications
that are drawn up by the Council of Europe. See the summary from the A1 to the C2 level
Content of the training?
We compile the training in consultation with you, for example:
using the telephone, e-mail traffic
participation in meetings/congresses
mastering professional language
learning to read manuals
negotiating, giving presentations
being able to carry out a relaxed (sales) talk
performing well during a quality audit
working in an international project
being able to act independently when stationed abroad
Practical matters
A customized individual training is given at the customer's location, at Eurolangues in Leeuwarden or at another location according to your wishes. With 30 hours of lessons a student can progress one level further than the level at which they started. With an intensive training the lessons are given in a shorter period. If you opt for a staggered training then lessons are given for 2 to 3 hours a week during a period of 10 to 15 weeks. Dates and times are always aligned to the diary of the student. We provide customized trainings in Friesian, NT2, English, German, French, Spanish, Italian, Portuguese, Indonesian, Russian, Thai, Burmese and Chinese. Other languages on request.
Language material and methods of working
We discuss this with the students:
technical jargon from the company and the sector
films, Internet, audio visual resources that match the interest
modern teaching methods, newspapers and magazines
case studies, discussions, various exercises
necessary knowledge about the country/people/culture Also read online learning
Customized group training and more
Do you prefer a group training? Read customized group training
Is one of your employees going abroad with his family? Read family training
Do you want information about the language level of an applicant or employee? Read language level check
'Our product technologist from Peru could manage after a general training in Dutch, but colleagues could often not understand her. An individual training from Eurolangues provided a solution. She received personal feedback on e-mails and reports, worked intensively on her pronunciation, increased her vocabulary and optimized her writing skills. She has gained self-confidence, can now manage well and participates actively in meetings.'
A customer in the technical sector.
'Students learn much easier if they can complete the lessons in their own way.'
Lucia, language trainer at Eurolangues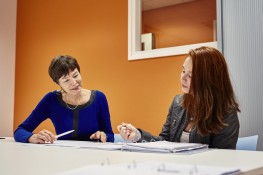 Contact
We will gladly answer any questions!
Call: +31(0)58 288 1314 or
complete the contact form.