Gera Boelens-Douma
An interview with Gera, director of Eurolangues since its inception in 1989. She is also an inspired trainer and coach for her freelance language trainers.
Your students soon achieve results. How do you do that?
Gera: 'It's all about motivation. We provide lively language material that students find enjoyable. And we help them across the threshold. Dare to speak, to write. Just do it! We also get students moving with an enthusiastic work attitude. For example, we try to fit in with their interests and learning styles.'
The Eurolangues language trainings are practice-oriented. How did that come about?
Gera: 'That is how I am myself! When I studied languages I packed my bags and looked for a job in France. I wanted to dive in, immerse myself in the language. I learned really quickly; every new word was immediately usable in my work situation. I have translated that learning process to the organisation of the language trainings at Eurolangues.'
What do you find important in the cooperation with customers?
Gera: 'The trust! I have a long relationship with many customers that has been built up gradually. If a customer calls me and asks if I will join them for an internal discussion about language training, because he values my expertise, then that is a good feeling. I like to deliver customized services, respond as far as possible to the needs and requirements. This is appreciated.'
Eurolangues has been in existence for more than 30 years. Mention a recent development.
Gera: 'It is fantastic to keep moving. That is why we regularly modernize, for example in the area of online learning. In addition, with our family training we cater for a growing demand for trainings for children of expats.'
'Eurolangues comes quickly into action. Whilst we conclude the business agreements with Gera, a language trainer starts direct discussions with the students. In this way we do business on two levels and there is a perfect response to our wishes and requirements.'
A customer in the construction sector
'Because Gera also gives trainings herself, she is a great discussion partner when I discuss a lesson plan with her.'
Maria, Eurolangues language trainer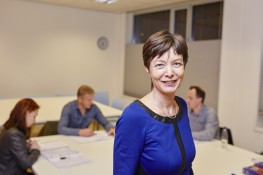 Contact
We will gladly answer any questions!
Call: +31(0)58 288 1314 or
complete the contact form.